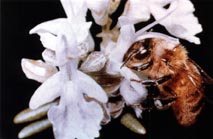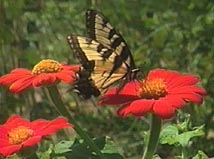 Butterflies are also Pollinators

Honeybees are a very important role in the plant world. They help pollinate plants and make honey.

Many plants that make fruit need bees to pollinate their flowers. Some farmers plant trees that make fruit. Every year, these farmers must bring bees into their fields so that their trees can be pollinated. If they do not do this, most of their flowers would never turn into fruit.

For pollination to be effective, bees must visit many plants. Color and shape attract different insects to different flowers. Bees carry pollen from flower to flower, and in the process pollinate flowers.

Like all insects, bees have a head, thorax, abdomen, two antennae, and six legs.
A bee has
how many legs?
How many wings
does a bee have?